What is Navigation Music Controller?
It's an elegant overlay showing a button set for previous track, next track and play/pause, for Android users. It displays in Google Maps or any other app of your choice!
You are a music fan and want to control your music while driving your car or riding your bike. While using apps like Google Maps (or Google Navigation) for navigation, it might be annoying to control your music. From now on it will be easy to skip a track or push the pause button on your Android device!
We decided to develop a simple mobile application to show music controls in Google Maps (or Google Navigation). And besides, Navigation Music Controller can be activated for every app you want. It displays a small overlay with music controls in an elegant black box anywhere on your screen (just drag it!). It automatically shows up as soon as Google Maps, Google Navigation or any other app of your choice is launched.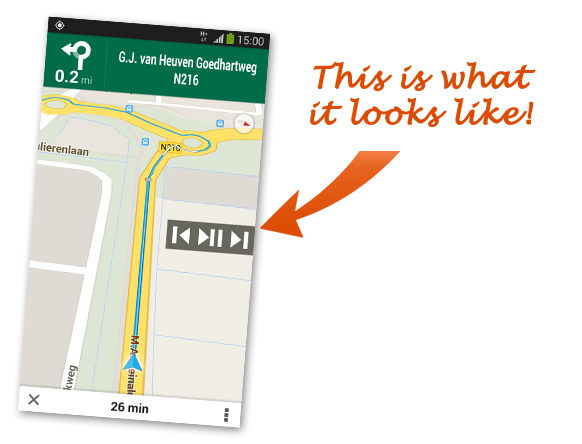 How does it work?
Visit Google Play Store to download Navigation Music Controller to your Android device. After downloading and installing, launch the app. The home screen appears, you can change your settings here and choose in which apps you want Navigation Music Controller to show up. Navigation Music Controller will show and hide automatically. For more detailed instructions, visit 'How to use'.


Navigation Music Controller screenshots
Click an image below for a larger view.